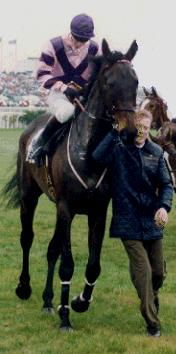 Party Politics before the start of the 1992 Grand National

I was lucky to get the ride on Party Politics due to the unfortunate Andy Adams breaking a leg at Doncaster two months before the race.

Party Politics never put a foot wrong and the only time I had any cause for concern was when he had to swerve round Brown Windsor who had fallen at Becher's on the first circuit.

He is the biggest horse I have ever ridden standing at 18.1 hands. A hand is 4in, so he is a fraction over 6ft tall at the withers.

Large size is generally regarded as a disadvantage because big horses tend to be clumsier and more unbalanced than smaller, lighter ones.

Party Politics has good claims to be regarded as the tallest-ever National winner. The 1904 winner, New Zealand-bred Moifaa, is usually referred to as a "giant", but contemporary accounts describe him merely as "over 17 hands"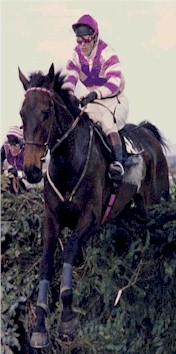 Jumping the last on his way to winning the Grand National